Announcing the first St. Pete Second Saturday VIRTUAL ArtWalk!
Grab your coffee, mimosa or beverage of choice and join us ONLINE & on Facebook April 11th from 9am-9pm.
Many ArtWalk venues are participating and have links to ALL of their amazing art that is available online in their virtual galleries and exhibits.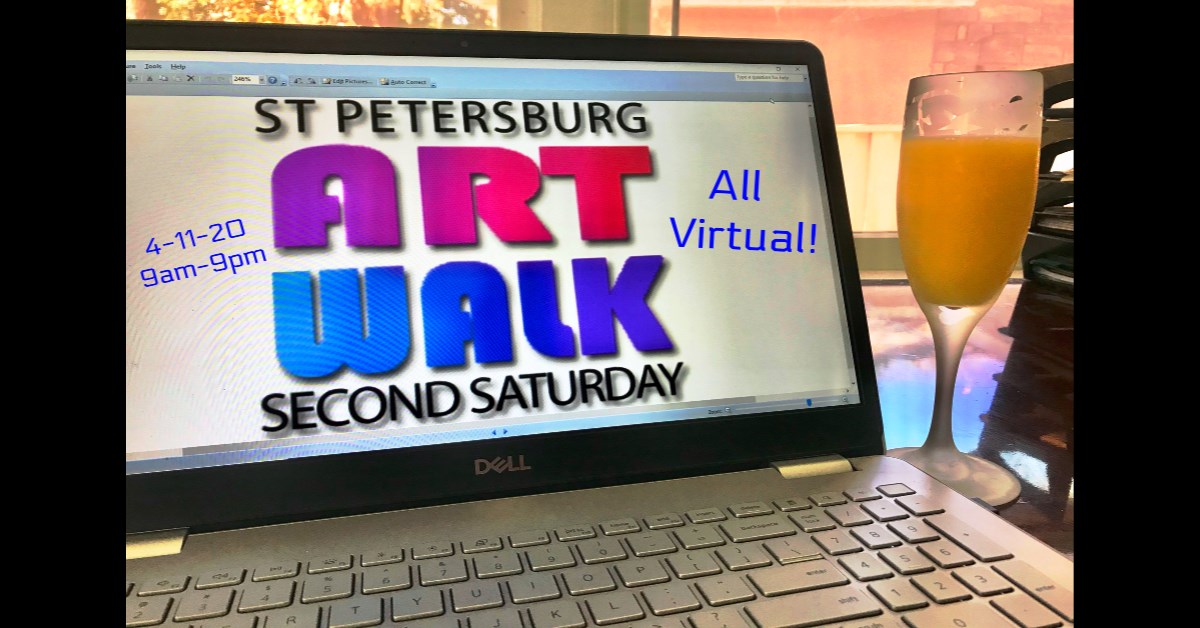 In this time of crisis our individual artists, art studios and art galleries are suffering by not being open due to the pandemic. Based on survey results, we have estimated that the monthly direct loss by ArtWalk studios/galleries is $48,000. Add in the typical 2,000 resident attendees spending an additional $23.44 each on food, drinks = $46,880*. This means that St. Pete's Second Saturday ArtWalk generates approximately $94,880 a month. (*Multiplier from Americans for the Arts Economic Prosperity Report V)
Now is the time to support our Artists and Creative Businesses! Join us during this "ArtSit" to do what we can to support and nurture this industry. Become an armchair traveler, discover and collect wonderful surprises from your couch, desk or porch. ArtWalk participants will also take your call or answer your email for any more information about the art that catches your eye.
This Virtual ArtWalk is sponsored by the Courtyard by Marriott St. Petersburg Downtown! The Courtyard is also offering co-working space if you are housebound!!
Below are the participating venues that you can visit today and on April 11th (some might even be hosting special one day only sales!):
Art Fusion Galleries St. Petersburg – 106 Central Avenue – https://artfusiongalleries.com/shop-art
See an eclectic variety of contemporary artwork by emerging and mid-career artists from around the world. From sculptures, paintings, photography, and more, there is something special for all of our new and existing customers!
ARTicles Art Gallery & Custom Framing – 1445 Central Avenue & the Leslie Curran Gallery – 1431 Central Avenue (727) 898-6061 –
http://www.articlesstpete.com
The ARTicles flagship showroom has been a mainstay on St. Petersburg's Central Avenue for more than a decade, offering a well-rounded, extensive selection of artworks and local expertise. Explore the work of dozens of artists for sale in our online shop. Just go to the website and click on "Artists" at the top of the page to discover exceptional original art from near and far.
Artists at the Mirella Cimato Art Gallery – 2145 First Avenue South, St. Pete, FL 33712.
https://m.facebook.com/story.php?story_fbid=3159083910792485&id=151536211547285
Please enjoy this artistic interlude of TESA – The Exhibiting Society of Artist – About 30 artists will be exhibiting in a variety of mediums. For information please contact [email protected] /727 8232040 or 727 5439190
The Art Lofts of St. Petersburg, FL – 10 Fifth Street North (upstairs) (727) 391-890
http://www.theartlofts.com
Visit their website and contact the ArtLofts artists directly.
https://www.facebook.com/stitcherotica/
Enjoy Stitcherotica – A celebration of classic fiber art portrayed in a decidedly non-traditional sense. Eighteen Tampa Bay artists created erotic, exotic works all defined within the fiber medium for Stitcherotica, featuring wildly divergent pieces including knitting, crochet, wire, needlepoint, fabric manipulation, embroidery, cross stitch and more, all interpreted in mature themes. Stitcherotica, curated by Milkshake Studio, is currently displayed at Studio 208 of the Art Lofts of St Petersburg. Contact information for buying of items: Brandy Stark, 727-821-5759 or [email protected]
ArtsXchange St Pete – 515 22nd Street South (727) 256-0821 –
"Off the Dome: Artists of the Dome Industrial Project." In honor of the completion of the revitalization of the Dome Industrial markers, the 6 selected artists are showcasing their local, literally "Off the Dome" so to speak. Featured artists include: Elaine Chambliss, Brian McAllister, Zulu Painter, Susanne Sangrico, Justin Sears and Catherine Weaver.
• 360 gallery view – https://app.cloudpano.com/tours/aFEk9-FtLh
• Gallery of images (stills) taken of the gallery spaces (non 360). An email address is required for access – this is just a security measure. https://www.dylantoddphotography.com/proofing/ax-april-2020
For inquiries or purchases, contact us at [email protected]
The Bula Barua Gallery – 212 2nd Street North (727) 900-1063 – www.bulagallery.com
Sale: 30% off your entire order with coupon code ARTWALK. Valid from April 11 to April 13. One per customer and can only be used once.
Experience the beauty of BLOWN GLASS ON CANVAS! Bula Barua is an award-winning, internationally acclaimed Master Artist. She is inspired by the vivacious and free movements of blown glass and incorporates it into her mixed-media artworks. Bula's unique painting style has become known as Luxury Fine Art – Blown Glass on Canvas, with hundreds of collectors eagerly anticipating her next artwork. Bula creates multi-dimensional beauty and depth by combining luxury elements, such as Swarovski crystals, 24 karat gold, silver, crushed mica, precious gems (amethyst, rubies, sapphires, emeralds) and high-end resins onto the canvas. As an ingenious visionary, combining nature's elements together in perfect harmony, Bula is quickly becoming recognized as a prolific, modern master.
Charlie Parker-Pottery – 2724 6th Avenue South (727) 321-2071 –
https://www.charlieparkerpottery.com/
A full service ceramic studio with both memberships and classes available. Call 727-321-2071 for more information.
Craftsman House Gallery *Café*Pottery Studio – 2955 Central Avenue (727) 323-2787
An award-winning gallery/cafe in an historic 1918 Arts & Crafts bungalow that has now gone online! https://craftsman-house-gallery.myshopify.com/ Representing over 300 local and national artisans – pottery, blown glass, jewelry, wood, metal, furniture.
Creative Art Studios at 400 – 400 23rd St S, St. Petersburg, FL 33712 – multiple artists
• Kelly of the Wild – Immerse yourself in the wilds of Florida through vivid acrylic paintings of sea turtles, manatees, birds, sharks, gators and so much more at www.kellyofthewild.com ! Kelly Quinn is a local wildlife artist, educator and eco-influencer working with The Florida Aquarium, parks and preserves, as well as local schools to uplift the stories of science and conservation through the power of art. Each artwork sold helps support a local conservation initiative or outreach program to connect our community more closely to nature for generations to come.
• Thomas Bell – During ArtWalk, Thomas will be broadcasting via Facebook livestream, every hour on the hour for 15 min Facebook beginning at 9am and continuing until 9pm where he will profile various works and talk about the process and meaning behind each work. He will also be doing live work sessions while discussing the various techniques he uses to create the works. You can join the feed on facebook Live at www.facebook.com/twin72. View Thomas' works at www.thomasbellartist.com 24/7 as well!
• Paul LeRoy Gehres – www.leroy.land
• Julie Haura – Www.juliehauraart.com
Creative Clay – 1846 First Ave. South (727) 825-0515 – https://www.creativeclay.org/shop-artwork
View their newest online exhibit. ALL HUMAN LIFE IS LIKE A FLOWER – A group exhibit, including the show title piece by Linda M. Our artists' joy in artmaking is expressed in vibrant paintings, fiber art and mixed media. Portraits, nature, animals, interiors and abstracts burst forth in color and rhythm. Please enjoy this exhibit! All the artwork is for sale.
Collectors Exchange – 2939 Central Avenue –
Just go to www.articlesstpete.com and click on "Consignment" at the top of the page to discover an eclectic selection of artwork sourced from some of the finest collections in the region. One of the issues avid art collectors eventually face is running out of space. The Collectors Exchange by ARTicles has been able to gather a diverse range of work from numerous estates and collections, including pieces by many well-known artists.
Duncan McClellan Gallery – 2342 Emerson Ave S. (813) 760-6600
https://www.facebook.com/DuncanMcClellanGlass/
Starting at 5:30pm, join them through their Facebook Page where you can bid for an original piece of glass art from our "Studio Store", benefiting the DMG School Project.
https://www.flipsnack.com/MaryChilds/colorfield.html
Also enjoy the online catalog of "Colorfield", with works by Dorothy Hafner, Kevin Gordon, Timothy Stover and Ben Idols and Kathy Elliott.
Florida CraftArt – 501 Central Avenue (727) 821-7391
https://floridacraftart.org/exhibitions/contemporary-fiber-in-florida-2020/
Watch a walkabout talk by curator Cindy Bartosek of "Contemporary Fiber in Florida 2020" Exhibit features work by artists from around the state of Florida, highlighting current trends and innovations in the constantly evolving field of fiber art. This statewide call to artists will showcase contemporary approaches to fiber art pushing the boundaries and/or traditions in media and execution.
Each artwork in the exhibit can be viewed here along with the prices https://floridacraftart.org/contemporary-fiber-in-florida-2020-exhibition-art-work-and-prices/
Also read interesting bios on each artist here! https://floridacraftart.org/wp-content/uploads/2020/03/CFF-Bio-Book-sized.pdf
And finally visit their 360 degree tour of the gallery here – https://floridacraftart.org/fine-craft-gallery/
Luis Sottil Studios St Pete – 400 Beach Drive NE, #150. 727.220.1567 –
https://www.facebook.com/Luis-Sottil-Studios-St-Pete-1952688778117628/
This contemporary fine art gallery, offering original and limited edition works by national and international artists is currently hosting Multiple Artist Auction on their Facebook page with Bids Starting at 30% OFF. This multiple artist auction gives you the opportunity to collect originals and artist proof giclees at considerable savings.
MGA Sculpture Studio – 515 22nd Street South (727) 327-3473 –
https://www.mgasculpture.com/
MGA Sculpture Studio is an anchor studio at the ArtsXchange in St. Pete's Warehouse Arts District. Led by Master Sculptor Mark Aeling, we specialize in larger-than-life sculpture and public artwork. MGA has extensive experience in all phases of creating public art, from concept, design, and budgeting to fabrication and installation. When we are not working on creating public artwork, Mark and his team create artwork inspired by plays on words, patterns in nature, or the spatial relationship of elements, which delight the senses and nudge the viewer's imagination toward its own discoveries. We are currently building a life sized replica of the airboat that took the first commercial flight over the Tampa Bay, preparing to cast a 6-foot coyote skull, and preparing to continue the exploration of materials with another edition of Lips.
Morean Arts Center and Morean Glass Studio – 719 Central Avenue (727) 822-7872
https://www.moreanartscenter.org/ – Create with the Morean Virtually https://www.moreanartscenter.org/
Shop with the Morean – https://www.shop.moreanartscenter.org/
Kodi Thompson, assistant curator, shares the work of Fresh Squeezed artist Nicholas Kalemba – https://www.youtube.com/watch?v=3izoAuph-Us
Curator Amanda Cooper shares the work of Cindy Leung, one of our Fresh Squeezed artists. https://youtu.be/nsexLwXpAUA
Fresh Squeezed with Krystle Lemonias – https://youtu.be/fxv7Pn1arBY
Morean Center for Clay – 420 22nd Street. South (727) 896-2529 –
https://www.youtube.com/watch?v=SZY-2gfcKRY&feature=youtu.be – Virtual tour of "Grides" curated by Artist-in-Residence Danny Dobrow. This is a continuation of Dobrow's exploration of boundary testing ceramicists. Participating artists are: Jen Halli, Rachel Gu, Aaron Becker, and Austin Coudriet. Aaron will be doing a spoken word performance and Austin will be making a wet clay installation.
SHAPIRO'S Gallery – 300 Beach Drive NE (727) 894-2111
https://www.shapirosgallery.com/collections/all
Why not enjoy your Quarantini in a handcrafted glass? Shop with them via FaceTime, on line or telephone. They are shipping daily! Showcasing the finest in American made blown glass, jewelry, pottery, wooden boxes and sculpture.
Soft Water Studios – 515 22nd Street South (727) 480-8754 – Online gallery featuring the work of Resident Artists include: Mark Aeling, Wendy Durand, Janie Haskins, Carrie Jadus, Jim Kammerud, and Robert Sutherland. http://www.softwaterstudios.com/virtual-artwalk.html
St Pete ArtWorks – 2412 Central Avenue 727-485-8655 or 727-738-8010 – https://www.stpeteartworks-onlinestore.com/
Use coupon code "ArtwalkApril" to get 10% OFF on April 11th ONLY!
A subsidiary of Gulf Coast Artists' Alliance Inc., St. Pete ArtWorks is a co-operative art gallery featuring the artwork of 21 local artists in a wide range of media. Featured Artist: Fiber and mixed media works by Rebecca Quigley (held over from March)
VENUS St. Pete – 244 Dr. MLK Jr. Street N. – Abstract Emotion (ONLINE) – https://www.facebook.com/events/496212344422197/ This show features artists in all media whose work explores narratives around personal growth, art therapy, and creativity as a wellness practice. In addition, Venus presents a solo collection of paintings by featured artist Kim Stone, addressing these themes. Due to restrictions related to the COVID19 pandemic, this show will be presented online ONLY, beginning on Monday, April 6. Participating artists include Alexis Brown, Allison Hilgert, Brandy Stark, Casey Somerville, Char Snead, Christine Brooks, Emily Stone, Erica Wisor, Evan Neidich, Joseph Weide, KH, Kim Stone, KT, L. Brook, Lauren Petty, Linda Costa Cheranichit, May Gold, Old Crow, Shiloh Capone, Timmi Boose, and Wavesinphaze. For more information, please email [email protected].
Woodfield Fine Art – 2253 Central Avenue, #105 (727) 254-6981 – https://storage.net-fs.com/hosting/4177930/4/index.htm
Features art created exclusively by local artists. Experience the wide variety of beautiful pieces available within this comfortable gallery setting.
Zen Glass Studio & Gallery – 600 27th Street South (727) 323-3141
https://zenglass.com/store/
• Special deals – 50% off! 2 hour private workshop for up to 4 people – https://zenglass.com/store/#!/2-Hour-Workshop-For-Up-To-4-People/p/185497132/category=17889762
• 50% off! All make your own workshops –https://zenglass.com/store/#!/Workshops/c/17889762/offset=0&sort=normal
• 50% off! 1 hour private workshop for 2 people – https://zenglass.com/store/#!/1-Hour-Private-Workshop-For-Two/p/186745043/category=17889762
Zen Glass Studio & Gallery is following local and national CDC Social Distancing guidelines right now. You can visit their website and securely shop the gallery virtually, plus grab up some great deals on classes, workshops, & private group events. You receive a voucher or gift certificate that never expires to use when the restrictions are finally lifted. Supporting local businesses is what keeps all of us creatives and entrepreneurs here in the sunshine city going. We are celebrating 18 years in business in this beautiful city we call home and we love how all of us have worked together to make it what it is today. Stay safe everyone!