BEGINNER FLAMEWORKING CLASS (9 hours)
Every great journey begins with a single step.
In the Beginner Glass Flameworking class you will learn the fundamentals of flameworked glass. Safety procedures, torch setup, an overview of tools and materials will all be covered in the beginning of class and an information packet to review will also be provided. The curriculum for the Beginner Flameworking class includes an assortment of projects such as bead making, pendants, marbles and solid sculpture. The class is split into three sessions, three hours each which can be arranged to fit into your schedule. The Beginner Flameworking class will give you the knowledge and experience you will need to embark safely on your journey into flameworked glass art. It's been highly recommended by previous students to take written notes throughout the Beginner Class for future reference.
Practice shoulder-to-shoulder and learn from some of the best
glass blowing artists in the region.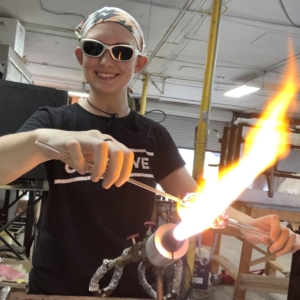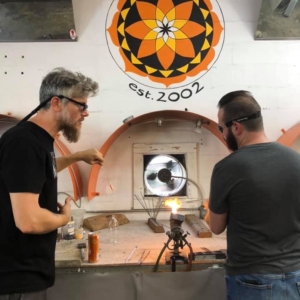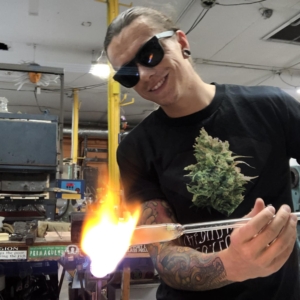 Beginner Flameworking Class:
Three sessions, three hours each, nine hours total.
Course info packet
Instructors with 20+ years of experience
Tools and materials provided
Basic torch safety and set up
Basic flameworking techniques for solid sculpture
Opportunity to rent space upon completion
Classes held in St. Petersburg, FL
Upon completion of this course, you are invited to rent space at Zen Glass Studio, as well as purchase raw materials and tools from our shop. Jump into the flow with our community of regulars and Practice shoulder-to-shoulder with some of the best glass blowing artists in the region while you dial in your own skills.
Register or sign up now
through our Online Scheduler by setting up an account.
Also check out our beginner's 2 hour intensive evening class
every 3rd Thursday of the month from 6-8pm.
Contact the Zen Glass team for more information and get started today on your glass journey.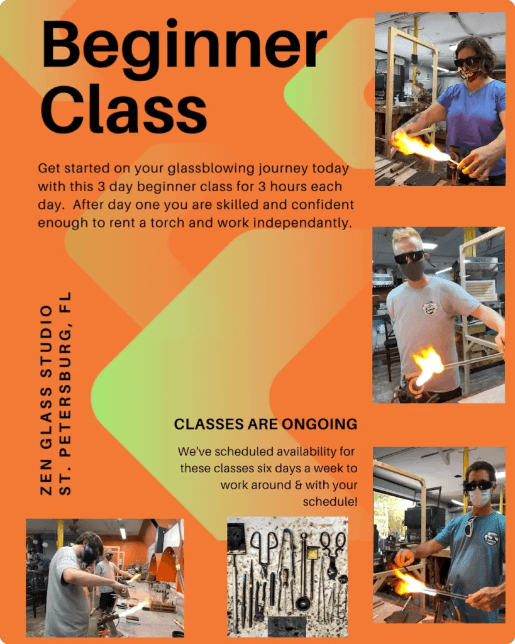 TESTIMONIALS
What people say about us.
Had such a blast! Staff was friendly! Got awesome one-of-a-kind wine glasses out of it!
Andrea Renee Dale
GOOD AND BEAUTIFUL STUDIO…………..
Haik Kartashian
What an awesome place, with a super low key, but awesome time!
Amy Schumacher
It was an awesome experience. Being that it was my first time I was a little nervous. But luck was on my side because we had Austin helping us and explaining every step of the wonderful process. I was supper happy with my wine glass and so were my friends! Austin rocks !!! Give it a try …. you will not regret this amazing experience ❤️🍷
Paula Martins-Ogden
Awesome! Did the make your own wine glass, can't wait to see how it turns out! Had a great time!!
Nicole Katsihtis
It was a wonderful experience that we be going back to make more.
Michelle Keener
Fun experience. Played with the melting glass to create the stem of a wine glass.
Ken Hays (NetGuyGreen)
We loves it. A an all new experience the was so much fun. And the finished product is.so beautiful. The staff and instructors are friendly and easy to talk to as well…..
Nicole Kinman
We had a wonderful experience! Austin was so helpful and fun to work with! It was truly a fun experience and will definitely come back to make more pieces!
Jen Henry
Awesome experience! Josh and Austin were great. Would definitely recommend this to anyone.
Hannah Stephens Denley
Stephanie Ehl
Love Zen Glass. I will be coming back. So much to see in the gallery and they have a garden out back with plants for sale. I will have to take a class very soon.
Kenneth Rosenwald
Me an my wife had a blast!??
Marty Cavalari
Very fun experience. Definitely makes you appreciate the custom glassware you see.
Thomas Larson
Great guys. Knowledgeable and friendly. Real artists that share their craft.
Frank Strunk III
Absolutely the best! Super fun, super relaxed atmosphere.
A. G. Fritzen
Awesome workshop and great instruction. Me and my wife loved it.
Christopher Dunn
What a blast. My wife and I booked an hour appointment and it was quite a fun learning experience. We both made wine glasses. The shop was really cool and the staff were awesome. We can't wait to do it again. Don't miss out on this fun experience.
Mike
Loved it,definitely recommend,they were awesome accommodating all our guests,pieces came out awesome!
Dani Ferreira
We did a workshop and made some wine glasses. It was so much fun! Would definitely go back for another session.
Rafaella Pavinato
Lots of fun trying something new. New appreciation for glass blowing!! Awesome time and cool teachers that make it easier and you can't do anything wrong.
Robert Denninger
Jackie Ballard
Fantastic experience with Josh Poll. Would highly recommend it! Can't wait to see my piece.
Sue Rosetti
Super fun!!! The guys were patient with us and very helpful.
Aarika Aj Poland
This was such a GOOD time! Josh was a great instructor and was very supportive of the non-descript blobs that were made! After all, we ended up with cool wine glasses, tree ornaments, paperweight and an awesome charm…Thank you Zen Glass, we WILL be back!
Sally Dumas
Super hands on and fun, did not feel controlled or rushed. We had a great time!
Andrew Yancey
Everyone there is friendly and helpful. Love that I get to create something with my bare hands 🥰🥰🥰 its fun
Jen More
Did a group class with the whole family while on vacation, was a wonderful time. The artists were friendly, welcoming and very knowledgeable, would recommend to anyone who wants to try something new. The gallery was great as well with many varied and beautiful pieces, that were affordable.
Ashley Harrington
What a blast!! Have fun and get creative this was worth every penny. We will be back for other classes. Great atmosphere and in a funky neighborhood 😁👍
Connor P
Did a class here for my birthday and it was so fun! The instructors explained how to do and were readily available to assist, but really let you get hands on. They even took pictures for us while we were making our wine glasses. Definitely a fun date night!
Kanji Bean
Best glass studio in St Pete
Alex Borsody
This was an amazing experience. Austin and Zack are amazing instructors. They made everything safe and fun. I'm definitely going to come back when I travel back here and do this again. Thank you guys so much for the amazing energy and experience 😊😊😊
Lakyia Wallace
Austin was so patient and fun. My mom wasn't to sure about what we were doing but he put her at ease. We had a blast and made a great memory!!! Thanks Austin!!!
Dana Ritz
Excellent experience, it's all about timing and patience…highly recommend it! Austin n Alex were great teachers.
Michelle D. Gonzalez
This place is class!!! David patiently guided me for my workshop. So much fun!
Update: Picked up my paperweight today! Looks amazing! Highly recommend trying this out!
Dee R
Thanks so much to Christian for making the ornament workshop so easy! They have some fabulous works of art in their gallery and the service is superb! Can't wait to see how our hand blown ornaments came out. I'm grateful to Christian for explaining how the color combos might look. Will be back!
Julie Wells
Awesome!!!!
My husband loved it!!!
Carmen L Green
Had a great time celebrating my other sister birthday! I highly recommend it and appreciate all of the team. Great gift shop for a unique gift.
Bo Bomar
What a blessing to have a place like this here! I can't stop coming back to make things. Everyone is friendly and the shop is full of such wonderful art. This is the kind of thing you can bring anyone to do and they will have a good time. I'm hooked!
G Vas
Brian Longstreth
Very friendly, helpful people. Most interesting and we had a great time! Would recommend it as a great addition to your Florida vacation!
Kay C Muehlhausen
Something fun and unique to do with the Besties ❤️ The owner and the workers are very helpful?
Dolly O'Conner
To say Zen Glass and it's crew are great is a disservice to them. You can feel and see the passion they have for this as soon as you get there. Austin, who was teaching/showing my wife and I how to do everything was amazing. The gallery and store are amazing. The talent to make the things they make with glass is insane. My wife and I can't wait to come back to try something else. Even our son asked if he could take a class with us next time. The experience was unforgettable.
Michael Reed
Lot of fun, ended up with a Groupon deal so it was about $60 a person for the wine glass class. Lasts an hour, unique experience
Jeremy Hester
Great experience. Austin was FANTASTIC! We just finished less than an hour ago so pics have yet been posted. Highly recommend.
Guy DeFazio
We had a blast at the studio. Highly recommend taking a glass blowing class.
Brandi Mills
I had a lot of fun with the make your own experience
Hen Sley
IT WAS GREAT TIME ! I SURPRISED MY MOM FOR HER BIRTHDAY AND AUSTIN THE INSTRUCTOR WAS SO COOL AND SO HELPFUL ! WILL FOR SURE BE BACK AGAIN AND I THINK I WANNA TAKE THE TRAINING GLASS TO LEARN HOW TO DO THIS ON MY OWN !!
Richie Incorvaia
The class was amazing! 10/10 recommend! Great date idea
Rebecca Mitchell
Amazing experience! I don't think it's possible to have a bad time here
Stacy Tibbetts
My friends and I just took a class on how to make our own wineglass. Austin and Josh were so knowledgeable and patient. If you are looking for new fun way to spend time with yours friends and incorporate your creative side. Checkout Zen Glass Studios and ask for Austin or Josh.
Amerey Justus
Pamela Widlak
zen is an amazing place 2 become an artist or just look @ some amazing glass. DAVE & Josh are super skilled and knowledgeable.

Dan Gaede
Stephan Hagström
I went for the wine glass workshop and had a great time. I was solo so I had Josh's full attention. I created a glass that I will enjoy for many years to come. I also bought a beautiful necklace for my mom's birthday.
Stacye J. Stewart
The class was Lots of fun. 😊
Renee Amstadt Falkner
Michael Preston
Shawn Fugate
Today my work partner in crime and I took our amazing customer service team for a class on pendant and bead making – they had so much fun! Josh & team were so patient with the 4 of us and really let us experiment and explore the artists inside. I was proud of both our girls – Karin and I need more practice heehee. This was 100% an awesome time and highly recommend it!!!
Amy Jo
Great gallery of glass art crafted by local artists. Also a great place to learn how to create your own glass art.
Jason Wilson
What an awesome class I made more pendants in instructor was totally awesome very patient and hands-on I can't wait to receive my Pendants Through the mail I will be back for another class thanks again
elissa heredia
Took an excellent short little class. Gained some knowledge and respect for glass workers. Also made a wine glass. Very personable staff!
Chip Rouseff
This place is awesome. Austin is spectacular at his role. Loved this place. Went here for a class! Will be back!
Mike Sizemore
Met some cool people at the show in Miami got the big coin from Josh aka Jash. And what a good bunch of salesman Zen had there. Makes me want to learn how to blow glass. Thanks, Josh and Zen btw thanks Jb and thank your girlfriend for the lil cupcake
Lola Cunningham
Go meet josh and experience a wonderful artistically creative time
Riley Wiggins
If you are itching for an adventure, look no further! I cannot say enough positive things about this experience. Josh went above and beyond to endure that we felt safe with social distancing, plenty of sanitizer and plexiglass between stations. He is very knowledgeable of his craft and helped us create exactly what we wanted. Already looking forward to our next trip
Kelly Dodsworth
James Pelt
Just attended a wineglass workshop today. Super fun. The whole crew is wonderful and extremely helpful. Don't be intimidated. They will help as much or as little as you want. Austin was super helpful.
Go! Have fun! And you get to wear goofy eye protection while you're at at!
Jeannine Walter
My girlfriend and I went to one of their wineglass making classes and it was a blast. The instructors are very supportive and knowledgeable about their craft. I felt like the prices were fair and we did not feel rushed. Lots of positive reinforcement during the process, and they even offered to take some pictures of us while we were working which was really nice. We will definitely be returning.
Donald McNeill
Great time with a group of 14!
Danielle Elizabeth Beckmann
my wife and I had an excellent time creating our own wine glasses! I highly recommend attending one of their classes, great atmosphere with friendly down to earth people.
Dominic Bailey
AWESOME! So fun and great teaching by Josh and Co
Lisa S Doeshair
The vibe you get from this place amazing. The people are all so welcoming. Great community and area.
From the moment I set foot in the hot shop I was treated like family and put at ease. Weirdie and Alex are 2 of the coolest human beings and made my wife and I feel like the glass was never unmanageable. My wife uses her wine glass all the time and I gave my pendant to my daughter who adores it.
The experience was so great in fact, I've signed up for beginner classes, bought my own gear and plan to keep coming back and doing this as a hobby.
Bring your kids, bring your significant others, bring your parents. Glass is fun to play with and it's one of those things that's easy to pick up and hard to put down! Zen Glass Studio is the place to make it happen. I am so glad I found them!
Greg V
So much fun!! And they were so very patient with us. I highly recommend their workshops!
Jacqueline MacNeil
Absolutely incredible experience!!! So perfect for date night or company team building…so much fun!!
Mindy Emerson Hunley
What a great experience. The staff was so friendly and made it a really fun day learning something new. Would highly recommend checking them out.
Scott Kepler
Best glass studio in Florida
Alex Borsody
Josh is a great instructor! He took his time with us and made the session fun. Definitely recommend him and his studio. I have a new found respect for this art. It's amazing!
Karla Bellido Cirizola
As a person who binge watched "Blown Away" in a day, this was a must. Austin was our instructor and he was amazing. Giving us little pointers and helping when needed. We each made a wine glass. We even had enough extra time to do a pendent. It was as awesome as I could have hoped for!! I would recommend anyone and everyone to this class.
Car Ander
Great work in the gallery 👏🤳
Richard Graves
We had a great time today making our own martini glasses. The owners were friendly and very knowledgeable, so the whole experience was a lot of fun. They also have really nice pieces for sale to accentuate your home. We'd highly recommend going there to anyone looking for something fun and different to do!
Mark Elkin
My sister and I made wine glasses.
All the staff were so welcoming and informative. They made sure we had a good experience and made a successful project.
So much fun!
We definitely plan to come take another workshop! Cheers!
Karen Cairns
For two ladies with introverted testing anxiety the Beginner's Pendant workshop was absolutely wonderful Austin was a great help, always full of bounce and positive encouragement! Thank you for helping our belated birthday celebration go so smoothly!
Sarah Catala
We had such an amazing time at Zen glass studio!! Josh was patient and helpful! We will definitely be back!
Amanda Moore
What a great experience, new and fun. Austin is a great teacher!
Jennifer Liston
My wife and I participated in a pendant workshop on October 15, 2016 with instructor, Katy. It was fun to learn how glass pendants are made and to try to make a few pendants. We were able to practice with combining different colors of glass and also trying to make different shapes. Katy was great as an instructor! I have a lot of respect for the process of glass making.
Mark Lytle
Phenom Glass Artists, beautiful Art
Beautiful People!
robert limburg
Our family had so much fun creating our Glass
Our instructors were great!!
We took our teenage boys ~ the whole family had a great time
Thanks for some rainy day fun!!
Mary-Jo MacDonald Wall
Such a fun afternoon! Highly recommend!!
Lisa Stoffels Hopper
Cindy Keene
Extremely personable folks and very cool arts. Definitely recommend to stop by!
Luan Vu
What a fantastic selection of glass art from varied artists! All of which was functional, decorative, and beautifully crafted! I will definitely be back to take a glass class!
Michelle Shaw
Amazing people who do amazing work! I couldn't be happier with them and the custom products that were made for us. I recommend them to everyone and already have a few friends who will be contacting them very soon for such exceptional work! Thanks Kelton and Billy you are both so amazing!
Stacey Gauss
David Eppler
I went today and had a private class with Josh!!!! And Josh was there all the way! I'm not sure I have enough talent to master this but it was an awesome experience and I may try to make a pendant before I leave!!! Thanks again for a great time…..
Jo Winters
Awesome Stuff! AUSTIN was great!
Brian Walders
Created the cake topper for our wedding. It was a true work of art. What a great studio for unique artwork and custom glass art. Thank you for such great talent
Victor Prince
This place is awesome. We did a great easy beginner project where we heated up some glass, added color to it, and shaped it how we wanted. The amazing staff there then turned our amorphous works of art into functional stemware. A very neat experience. I can't recommend enough.
Rocky Salzer
Stephanie Bailey
Absolutely wonderful place to see and try something new! Our family of four had a great experience and would do it again in a heartbeat! My wife and I made wine glasses and our children made their own abstract art. We couldn't have had a better time! Thank you Dave for an amazing afternoon! We will see you the next time we're in Florida!
Melissa Burns
Awesome place!! Great teachers!!
Tricia Hines Jones
Very interesting place, great classes
Dave Compton
Thank you Austin!! We really had fun today!!
Jenifer Bradford Drozky
My wife and I used a groupon there. The instructor was awesome and he helped us create our wine glasses. The shop was great and he gave us a tour of their show room. I would definitely recommend it.
Christopher Dunn
if there were a way to give Zen glass 100 Stars yeah, that would be my rating. Everybody is very knowledgeable helpful, positive, accommodating, and encouraging. And it's just so much fun! Love it!
Jim Morey
Amanda Patrizzi
Amazing fun!! Had an great time with friends
Denise Coyle
This was on my husband's bucket list…super cool experience!!! Definitely recommend & will do again!
Catherine Cook Denninger
Awesome! Hubby and I had so much fun playing with glass and fire. Katie was the best with helping us create our glasses. Thank you for offering the workshop.
Robin Rosenbaum
So much fun! What a wonderful gift for you to have blessed Mother's Day with! We enjoyed it very much and plan to return again in the future! Thank you!
Patti Monahan
We had a great knowledgable instructor
Marjorie Ann Grilli
zen is an amzing place 2 become an ar7is7 or jus look @ some amazing glass . DAVE @ Josh are super skilled and knowledgable .
Casey Vanmaaren
Stephan Hagström
My daughter had the BEST time during the 1 hour pendant making session! Austin was a fantastic teacher – very patient, encouraging and helpful. They have a gift shop if you're looking for a unique gift. They have all the COVID safety measures in place, too. It's a 2+ hour drive for us but very worth it and we'll be back!
Jennifer Patterson
A great experience!! Austin and Josh were great at showing us what we needed to do and helping to make sure our pipes turned out just how we wanted! Highly recommend.
Madyson Lord
What an awesome experience. I would highly recommend this to anyone. So friendly and relaxed. Thank you for a wonderful experience (~);}
Steve Martin
The class was Lots of fun.
Renee Amstadt Falkner
Thanks to KATY and JOSH for making my birthday weekend simply wonderful by going the extra mile!
Mike &Jozette Spina
Michael A. Spina
Robert Phillips
My 14 year old daughter has a hobby interest idea, and I am trying to help feed that idea/passion. Joshua was extremely helpful and informative. She will be back.
Michael Lennox
We had a great time at the studio! They were patient with us and let us get as creative as we could. Definitely coming back!
Angie Molloy Black
Fun place and the artist has the BEST personality. My bowl turned out awesome
Mandi Towle
The people were really nice and helpful. Making the glass work was a phenomenal experience that everyone should get to do at least once in their life time!!
Emma Patterson
The instructors are all nice and helpful, loved it would definitely do this again!
Ashley
The best places in the state for classes, camaraderie, and overall good glass vibes. Knowledgeable, friendly staff and a plenty of bench space. They also have a wonderful gallery full of beautiful work from tons of artists. Zen Glass really is a jewel of Florida.
Travis Tyler
We attended a wineglass workshop and had a great time. Everyone was very helpful and patient with us while we were figuring things out and soaking in all of the information. It made for a unique and fun girls afternoon out! Looking forward to a "cheers" with our new stemware!
Jennifer Chadwell
best place in florida to learn glass working
Kevin Tillotson
Everybody was so nice and helpful. Had a blast. Everybody should try this at least once!
Lisa Rude
Perfect name for this amazing space! Knowledgeable, kind, and fun folks just enjoying everything glass. Check them out, you'll be happy you did.
Jona Valentine
We did the make your own wineglass class. So fun!
Zach W
Me an my wife had a blast!👍🏻
Marty Cavalari
The most talented glass blowers in the area! Stop in to see incredible glass creations at reasonable prices!
Winston The Wandering Weiner
Mona Carbone
Austin was a very good teacher and funny. Had a fun and great experience and going to go back to make some more works of art.
James Bonis
best glass studio in southeast
Al Bo
We had a great time today. Staff was incredible and helpful! Thanks
Blair Commons
Great open lampwork studio. My introduction to the method. Super staff
Duncan Brown
At first I thought wat just the stem, thats all. Much respect. That stuff isnt easy and honestly im glad I didnt have to do more than that for the first try. Still got to go pick up the finished glass after its tempering time
jonwilly2
This was so fun! Austin was great and took so much time with us. I can't wait to come back and do it again.
Tracy Deanne
Had a blast there making a wine glass
D. Talks Errthang
It was an awesome experience. Being that it was my first time I was a little nervous. But luck was on my side because we had Austin helping us and explaining every step of the wonderful process. I was supper happy with my wine glass and so were my friends! Austin rocks !!! Give it a try …. you will not regret this amazing experience ❤️?
Paula Martins-Ogden
Great place to learn or try working with glass. Amazing staff.
Clark Hickman
Austin was amazing and very helpful. He made the class so much fun. We will definitely return for another
Susie Trudel
Had a great time!!!
Josh is a fantastic instructor!!!!
David Jackson
Zen Glass is the BEST! The workshops are really fun with friends or solo. The beginner 9 hour course is awesome if you want to be a hobbyist (of the 15-week for commercial glass artists). Josh, Dave, Austin & Alex are fantastic teachers and talented artists. Highly recommended, the best place to work hot glass!
Rachel King
Teresa Renfroe
An amazing experience!!! I created my own wine glass.
Courtney Burdick
Great classes!! Great people.I love going here one of my favorites.
Kenneth G Rosenwald II
Very cool experience in the wine glass class. Jash was amazing and very helpful in making the experience great. I will definitely be back!
Mary Finney
Lots of fun,people friendly and helpful want to do it again
Belinda Baxter
Fun experience, would def do again!
Marti Rothwell
Lots of fun and easy to do. Great teachers, I highly recommend anyone that has any interest in trying this, go for it, you won't be disappointed .
Christine Chilicas
Great group of people! Awesome experience!
Melissa Yelle'
Zen glass is an amazing place. My friends and myself went on Saturday and had a blast. Katy and the staff were friendly and very informative. We did the make your own wine glass. Also if you have a chance check out their gallery of work. All of their pieces are simply stunning. I can't wait to come back.
Kathryn Cochran
zen is an amzing place 2 become an ar7is7 or jus look @ some amazing glass . DAVE @ Josh are super skilled and knowledgable .
Casey Vanmaaren
Absolutely had the best time making our own pipes! He said that was the most fun he'd had on a birthday! We most definitely will be back!!!
Paige Morton
Great vibe love glass art and they are very helpful def will be back
Jacquie Catone
Quite an Artsy area! The instructor (Austin) was awesome. Had a few works on display and making a wine glass was such a learning experience!
Russell
If you are looking for something unique and fun to do for a few hours this was a fun experience.
Would highly recommend.
Sandra Lynn
Great class by Austin. He did a superb job. Go make your wine glasses at Zen Glass Studio!!
Deandre Fitzgerald
Austin and Josh taught us how to make wine glasses. They were very informative, helpful and fun. Great experience and would definitely recommend it! We will be back!
Kiki Soto
Such a great experience and would highly recommend! We did a wine glass making workshop and had a blast! Thought I'd be intimidated by working with a torch but Austin (one of the artists at the shop and the teacher for our workshop) made us feel super comfortable and made sure we were having fun the entire time! This is great activity for date night or even as a group event. We are most definitely going back! Thanks for the awesome time Austin!!!! 😁❤️
Cristina Button
Josh was fantastic! Very patient and helpful
Renee H
Kind hearted education. Welcoming and all around awesome people, hope to spend more time there, so much to learn!
Michael J Salisbury
It was so much fun.. My husband and I had a great time
Tee Richardson
We had such a great time, I definitely want to come back and do more!
Kelly Muir
So fun! Even I could make my own pendant😍
Steph J
We had a great time! Josh was super helpful. He explained everything and let us have at it. When we needed help he was there and both our projects came out great. Will definitely be back and hope our kids can join us when they visit.
Shawn Engel
Great for a first time fun experience
Joseph Leetz
Johnny Cee
Had a great and fun experience, very welcoming. We are definitely going again!
Limayri Carranza
Austin was AWSOME! We had a blast making wine glasses – so much we signed up for another workshop the following week. I highly recommend this class!
Jill, Wes and Jasmine
Jill Saarela
Very nice place perfect for Glass Art the staff nice and friendly clean pleasant surroundings and Joshua was very helpful. I recommend this place .
JOSE ROBERTO COLINDRES LOPEZ
Awesome Place,Great People, I totally enjoyed meeting everyone there.
Awesome Place to learn Glass Blowing.
Robin Terrell
My husband and I had a great experience at a wine glass workshop today with Austin. Great way to experience something new and cool on a Sunday afternoon. Our wine glasses are so unique and we can't wait to drink out of them. Thanks Austin! We will recommend you to all our friends.
Michelle Wheeler
OHHHHHH my Gosh, such and amazing experience. Austin, Dave and the other artists were so incredibly awesome!!! This is some things I recommend doing more then once.
Tory Repetti
This place is absolutely amazing! My sister and I had a great time. The staff was friendly, knowledgeable, and helpful throughout the whole process…. Not to mention hilarious! We laughed and shot one liners with Austin the whole time!! He was the coolest and was such a team player. He helped us create beautiful wine glasses, as well as awesome memories. (We made a bird!!) I would recommend this place to anyone!
Nekesha Dunlap
My friend and I attended a class today. We had such a great time. David was an excellent teacher. He was very personable and made it so fun! We will definitely be back!
Erin Macdonald
David is a great designer and glass artisan! He created and installed a wall of glass in out home down in Venice. Such s nice guy, it is a pleasure to do business with Zen Glass Studio. Highly reccomend.
Jack Conant
Josh Poll & David Walker did such an awesome job in honoring my brother! Had some beautiful pendants & a pocket piece made with cremations & some outstanding paper weights too. Can't put into words what it feels like to have & only know I have felt a definite peace.
Jill Pach-Stanford
Very friendly . Helpful. Awesome studio.
Brooke Awad
Josh was amazing. very relatable and welcoming from the minute we got there. it was a surprise for me so kinda didn't know what to do, but he explained and gave us examples and really made it a memory for us. looking forward to our next visit already.
Matthew Dodsworth
Place is simply awesome! Great people over there!!
John Cullen
Had a totally awesome time. They were great. We plan to go back for more classes!!! Everyone should try this. Zen Studio rocks!!!!
Sandra LaValley
Jon Adams
My daughter got to work w glass!! So wonderful!!!
Erin Koprevich
Great place to take a glass class and a great place to teach one. Some very kind professional people host a myriad of glass opportunities. I will be back!
Fahan Sky McDonagh
Brian Underwood
Edward Alvarado (Mr Divine)
Took a chance on a Groupon for our first visit. Enjoyed it so much we went back a second time. Staff/instructors were really attentive. A fun experience. Highly recommend.
Mark Walther
What a freaking blast! My mom bought this experience on Groupon for us (group of 4) and we had so much fun making the stems of our wine glasses! Austin was patient, super helpful, and did an excellent job not only explaining what we should be doing but also entertaining us. 10/10 would go again.
Katelyn Rodocker
definitely recommend for a day out. nice date idea. staff was helpful and sociable! 🙂
Sandy Bhagwandeen Girwar-Nath
Charlotte Coffey
Best Groupon in the Bay Area
Michael Wallis
See glass blowing in action! Learn how to blow your own beer or wine glass!
Forget painting a plate… Play with fire!
Anthony Cowdrey
I did the make your own wine glass workshop for my birthday, and it was by far the most amazing experience I have had. Austin is an amazing instructor I will definitelybe going back. Thank You!!
LaChrisha Lewis
Sandy Bellino
Beautiful art work, and an extremely interesting process to get there. Highly recommend!
Helen James
My boyfriend and I had an amazing date night here! It was so fun. Such a different and exciting date.
Megan Denton Hurt
Alex was amazing, very patient, very informative and very Zen!!!
United States Veteran
We had a great experience here making some wine glasses.
Matthew Mabbitt
My wife and I had an amazing time we highly suggest everyone try it.
Micheal Reed
Amazing people and atmosphere! If you love glass definitely go check out Zen!
Sherie Means
The class was very interesting, and much harder than I expected! But our teacher was great and assisted us all the way. Definitely would do it again!
Holly Phelps
This is an AWESOME place with AWESOME staff! Josh and the bearded guy really made my first glass blowing experience rewarding and incredibly fun!! It was me and a group of my friends and wow! These guys have real talent and are able to teach a group of newbies the basics of glass art.
This is great place to gain new skills AND have a great time! Make a date at Zen Glass Studio with your loved one, a girls night out, etc.
michael laplante
Joe Wareham
Eric Lizotte
everyone there is friendly and helpful. Love that I get to create something with my bare hands ??? its fun
Jen More
Kristen Conklin (Talk Spectrum)
April Rose Morningstar
Great fun place to learn about working with glass
Bonnie Mcc
We had the best time. Great guys thanks
Tim Crenshaw
A great place for a cool weekend activity! We had a blast!!
Brendan Hughes
Veteran Night hands down always an amazing and relaxing time. Learn something new everytime. Truly thankful for this opportunity.
Valerie Evans
Absolutely awesome. So much fun and so friendly. A very unique experience that I would highly suggest for date day or a group of friends. One of the coolest activities in St Pete.
Staying Afloat Party Boat
GREAT TIME. Would do it again in a heartbeat! Great way to learn the art
Joe Dougherty Jr.
Had a great time with hubby and friends, thanks Austin!
Leigh Ann
Absolutely, I had a great time. planning a group to return. Didn't know what to expect, this totally exceeded anything I thought.
Laure Hartman
Awesome we lobe to come here to create one of a kind pieces!😁
Amira Horn
AJ Harris
wicked fun and entertaining,
Leo Lamontagne
Enjoyed making my wine glass stem, was a little nervous at first but David was an awesome instructor. Will be doing another work shop
Elva Helmick
Great placeand atmosphere to learn
Ken Sullivan
Great personalized experience. I learned a lot and had a blast. Josh is customer focused, witty and a pleasure to be coached by. I'll be sharing and encouraging others to signup.
Alan R Weary
Great guys, made a memory in glass that will last forever.
Ron Stevenson
I made 2 wine glasses. Austin was my instructor an he rocked it. Will be going back to do more.
Dawn Bishop
Highly reccomend this place. Our instructor Dave made it very fun and relaxed. He was very eager to help and answer all our question and gave us enough space to have fun and be silly while providing a safe environment.
Allona Sicotte
Great atmosphere and very friendly instructors. Much more fun than we thought we were going to have. Thanks Austin!
Jess Whitehouse
My husband has told every single person he's spoken to since we left how amazing it this experience was! Josh, Austin and team make you feel right at home and let you create your very own masterpiece. We highly recommend!
Michele Krohn
The person that helped us was awesome, patient, funny and nice. Definitely will be coming back
Alicja J Krzyżanowska
Fun experience! Patience and encouragement from instructors Dave and Austin. They did a great job. My husband's quotes: "I thought this would be way more boring" and "that was freakin' awesome!" Ha! Now we have two new favorite wine glasses and great memories!
D. Auri.
Sean Dunn
We had such a great time would love to do more great teacher
Debra Krause
Sue Regis
Great experience, easy to follow along for first timers. Real "Zen" 🙂 vibe. Good times, thanks again to Josh and the guys!
Ryan Dorsett
Awesome workshop, Our instructor Austin was amazing
Enrique
Courtney Koske
I spent a few minutes with Josh telling him my background and what I wanted to get from the class. He took me through a few 'basics' and I was off and running. Fantastic experience and I look forward to coming back the next time I'm in town.
Geof Kozel
Had a great experience with the staff making champagne flute glasses that we plan to use in our upcoming wedding. Will be going back again!
Mark Senko
Good guys too know in st Pete
Chad Frasier
Just Awesome Thank you to our Teacher Josh my Wife and I Had a Great time.
John Bowen
My husband and I really enjoyed making wine glasses at Zen Studios. It was more than what I expected …so cool. So interesting to learn the process. The base and goblet were already made, we got to make the stem. Austin was a great teacher. Thanks so much!
K Rojas
This was such a fun glass. I had a great date day! and our glasses came out great! thank you Austin for making our day enjoyable. definitely coming back! Austin was a great instructor.
Beijo Flor
So much fun! We would love to go back!
Kelsey Caldwell
zen is an amzing place 2 become an artist or just look @ some amazing glass . DAVE & Josh are super skilled and knowledgeable .
Casey Vanmaaren
Best family fun experience! Austin and Josh were amazing to work with. Thanks Guys!
Josh Denley
Cool place…loved seeing how they blow glass up close
April Alexander
Bonnie Izor Ball
So much fun! My friends and I did a wine glass class and it was great! They let us bring our own food and drinks! 🙂 Definitely going back! Ask for Katy!
Stephanie Jones-Walker
Feel right at home here…long live zen glass studios
Steven Helms
Austin Buchanan